Marlboro Volunteers, Inc.
Mission Statement: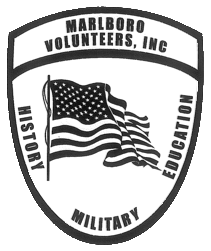 The Marlboro Volunteers are truly volunteers. We are not affiliated with any service group or other organization.

Our mission is not political, but simply to represent all men and women who have served our country, with the highest honor, for the past 200 years.

At a time when the world seems constantly changing and volatile, there stands an American Solider, on guard to protect and serve, just as they have for over 200 years. It is all too easy to forget that freedom has not been quick or easy, it has been earned by service men and women, with a sense of duty, pride, and life. We are civilians, soldiers and veterans with interest in providing all citizens the opportunity to see American Military History. We accomplish this through the Volunteers participation in various community parades with appropriately uniformed members, historical military vehicles, and equipment. This provides citizens the opportunity to view and gain an understanding of equipment, weapons, and uniforms. The Marlboro Volunteers use portable museum displays to provide hands-on educational opportunities for schools, civic, fraternal and veterans organizations.

The Marlboro Volunteers understand the honor that must be upheld by our action. Our concern is not whether political quest has been right or wrong, but to remember those who served.