Absent Friends: Gone, But Not Forgotten.
---
Mary E. (Betty) Umberger Devies
Lieutenant, U.S. Army Nurse Corp.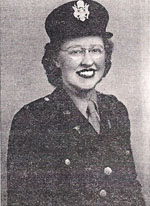 World War II was well under way as she was completing 3 years of Registered Nurses training at Aultman Hospital. She finished training in August of 1943 and received her R.N. After taking the State Board exam in December, 1943. The need for nurses in all services was escalating and the Red Cross was recruiting. She enlisted in January, 1944 and received orders to report to Billings General Hospital, Ft. Benjamin Harrison, IN. On February 1, 1945, she was commissioned as a 2nd Lieutenant in the Army Nurse Corps.

At B.G.H. she was given a more complete physical, had dental work upgraded, received required inoculations along with basic training in military etiquette, use of a gas mask and was issued military nurses attire.

Her first assignment from there was to the 156th Station Unit at Camp Atterbury, south of Indianapolis, where she served for the next 13 months. Her work was on wards of ill or injured soldiers. Penicillin was just beginning to be the treatment of choice to get soldiers back into training. When the hospital became Wakeman General and Convalescent Hospital, wounded soldiers from overseas began coming for prolonged treatment. She was then assigned to care for patients needing plastic surgery rehabilitation. Since it required many months of healing, she never saw the end results but knew ther soldiers were given the best of care while they were hospitalized. Before leaving Wakeman Gen. Hosp. She received her silver bars as a 1st Lieutenant.

In March, 1945, a request came for nurses to for overseas duty to replace nurses who needed to return the States after serving years under adverse conditions war. She volunteered and was on her way to Army Services Personnel Replacement Depot at Indiantown Gap, PA in April. There a large group of nurses were given more military training, updated physicals and more Army Nurse clothing was issued, suitable for the ETO. There were 500 going as replacements. Her group was assigned to sail on the converted luxury liner Ile De France. On May 1, 1945, they sailed from Ft. Dix, NJ. The trip was uneventful and on May 8th arrived off the coast of Scotland. That evening the King of England made an announcement over the PA system that hostilities with the Germans had ceased VE day.

They debarked and boarded a British train for an overnight stay in England. Residents along the way were jubilant and cheered them on. They arrived May 10 at the 10th Reinforcement Depot and were assigned to the 102nd GH where they waited assignment. On May 25th she was assigned to the 107th GH. She reported on June 1, 1945 to 7th GH where she worked until September. The patients there were awaiting ship transportation back home. Only the seriously ill and wounded were flown home.

She also served at 163rd GH in England until she was assigned to the 160th GH and crossed the English Channel into France. They arrived at Camp Phillip Morris in a deluge of rain and found their beds wet from leaks in the barracks roof. Her 1st assignment was with the 178th GH in Reims, then the 198th GH and finally the 28th Field Hospital where patients were housed in a French Villa and the nurses in tents. The next week she went to the 68th GH in Nancy, France. It was there that she met a familiar face from home, Wade Fox, an MP who was on duty at the hospital. It was a chance meeting in a hallway.

The next move was to LeHavre, France where a group of nurses awaited transportation home. They set sail on February 25, 1946 for the eleven day journey on the USS General George S. Squire, a Liberty ship. They encountered a severe Atlantic spring storm and were confined to their cabins. The last two days were smooth sailing and she saw the Statue of Liberty as they entered New York harbor. What a beautiful sight.

She was honorably discharged from the Army Nurse Corps at Ft. Dix, NJ on March 6, 1946. From there she traveled back to Alliance and met at the station by her parents and her future husband, Harold Devies.

Betty stated that during her tour of duty, besides seeing much of England and France from the back of trucks, jeeps or trains, she was privileged to visit places of interest and enjoyed a weeks leave in Switzerland. She also saw much of the destruction of war and felt the effects the war had on the general population. She met many friendly people and gained a wealth of experience. She proud to have been a very small part in winning the victory of the evils caused by one tyrannical individual, Hitler.
---
Harold R. Devies
Staff Sargeant, U.S. Army Air Force Ordinance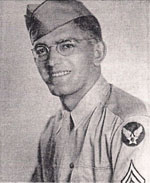 Harold graduated from Marlboro Twp. High School in 1939 and attempted to enlist in the Ohio National Guard in 1940. He needed his mom's approval and she wouldn't give it so in November of 1940 he went to work for the Natural Gas Co of W.V in Alliance and retired 43 years later.

However, on his 21st birthday, July, 1942 he registered for the draft but was deferred until October 1942 when he was finally inducted. From there he was sent to Ft. Hayes, Columbus, OH for processing.His 1st assignment was to the Army Air Force Ordinance Depot at Municipal Airport in Baltimore, MD. After spending 3 months in combustible engine repair school at Camp Holabird, Md, he went back to Baltimore.

Sometime in 1943 he was sent to Camp Springs, near Upper Marlboro, MD to a new Air Force base (it is now Andrews Air Force Base. His next assignment was to NCO school at Ft. Lee VA then back to Camp Springs to work in automotive repair until late 1944. He applied for OCS and was accepted but didn't make the grade to become an officer.

January of 1945 found him going from Aberdeen Proving Grounds in MD to Indiantown Gap PA for 3 weeks, then on to Jackson Barracks in New Orleans, LA for a month. In Feb 1945 he was sent to the Panama Canal Zone to help give relief to soldiers who were being returned to the US for discharge. There was an overnight stop at Guantonimo Bay to refuel and sailors were permitted shore leave.

In Panama he worked in a warehouse which provided the army with tools and equipment to repair war armaments. War ships were passing through the Panama Canal frequently. He saw the "Ben Franklin" with multiple shell holes in the flight deck. The battleship USS Missouri became stuck in the locks at Miraflores and it took 9 hours to dislodge the "Mighty Mo" before she could pass on into the Atlantic Ocean.

In January 1946 it was his turn to head home. Within 48 hours after docking he was on a train to Camp Atterbury IN where 2 weeks later he was heading home with his discharge papers in his hands. The month of February 1946 found him getting re-acquainted with civilian life, family and friends.

In March, Lt. Mary Umberger, an Army Nurse who had been in the ETO for 10 months arrived home and accepted an engagement ring. They were married and had 3 children. Their one daughter is a LPN and their only son who is a Gulf War Veteran retired after serving 20 years in the Air Force Medical Corps.

---
James Liverett
Corporal, U.S. Army
Jim served from 1971 to 1974. He obtained the rank of corporal and served two years in Germany.
---
Leon W. Stalder
Petty Officer 3rd Class, U.S. Navy
Leon served in the Navy from Oct. 1955 to Oct. 1961. He was a Petty Officer 3rd Class and served at N.A.S. Quonset Point, Rhode Island. He was with the VAW-12 Aviation Squadron aboard the U.S.S. Tarawa.
---
Robert Wareham
Master Sergeant, U.S. Army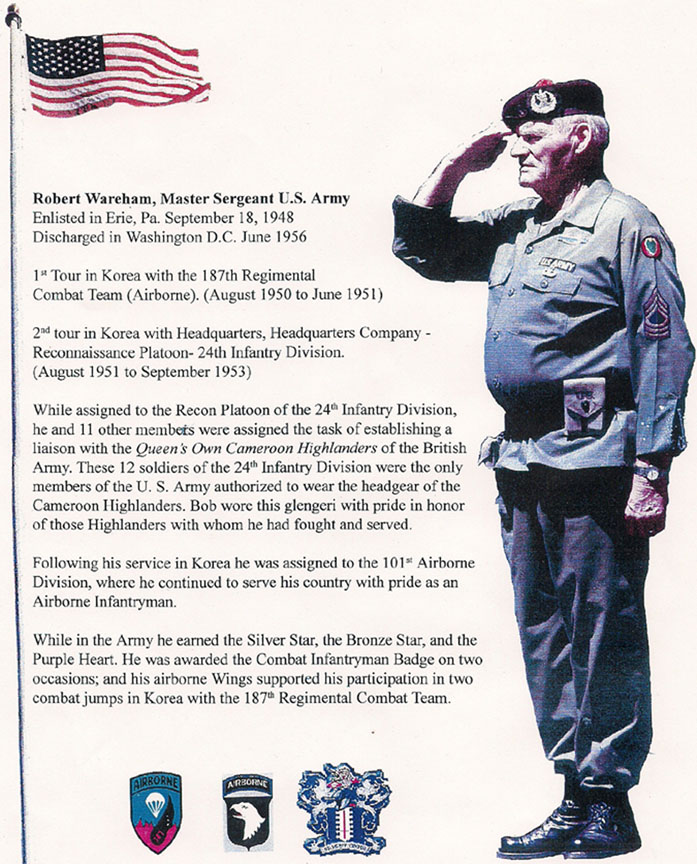 ---
GOD BLESS THE USA!!!
If you would like to add service personnel to this area please Contact the Webmaster.