Our Members Who Are Currently Serving
---
David "Yoder" Rehs
Captain, U.S. Air Force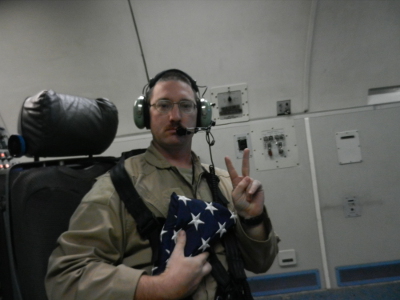 Capt Rehs (pictured onboard his aircraft over Iraq on 11 September 2014) was commissioned on 22 July 2009 from Officer Training School (OTS), Maxwell AFB, AL. From there he attended Undergraduate Air Battle Manager Training at Tyndall (UABMT) AFB, FL. After attending Survival Evasion Resistance Escape (SERE) School in January 2011 at Fairchild AFB, WA, Capt Rehs Permanently Changed Station (PCS) to Tinker AFB, OK so serve aboard the E-3 SENTRY Airborne Warning And Control System (AWACS). Once being certified Combat Mission Ready (CMR), Capt Rehs was assigned to the "World Famous" 963d Airborne Air Control Squadron (AACS) - the oldest active airborne Command and Control (C2) squadron in the USAF.

As an Air Battle Manager (ABM), Capt Rehs has been qualified as an Air Weapons Officer (AWO) and will begin training to become an Electronic Combat Officer (ECO) in the spring of 2015.

Capt Rehs has supported two USN Carrier Strike Group (CSG) predeployment exercises as well as one Expeditionary Strike Group (ESG) predeployment exercise. Capt Rehs was involved in the deployment of multiple AWACS crews to Libya for Odyssey Dawn in 2011 and has spent part of the summer and fall of 2014 deployed to an undisclosed location to support the Iraqi, Kurdish, Yazidi, and Syrians in the battle against ISIS. He was involved in the humanitarian aid air drops in the Sinjar Mountains, the re-taking of the Mosul Dam, the defense of the Haditha Dam, the reinforcement of Baghdad, and the air strikes in Syria that were the public debut of combat operations for the F-22 Raptor.

Capt Rehs, along with his wife, Marga, and four children look forward to someday returning home to Ohio.

---
GOD BLESS THE USA!!!
If you would like to add service personnel to this area please Contact the Webmaster.