Our Veterans
Here are a few biographies of some of our members.
---
Ron Hafner
U.S. Air Force
Ron Hafner was a member of the U.S. Air Force from March 1981 to March 1984. He served in the 21st Civil Engineering Squadron at Elmendorf Air Force Base in Anchorage AK where he received the Air Force Achievement Medal for his work with hazardous and toxic waste. He then went to the 42nd Civil Engineering Squadron at the Loring AFB in Caribou ME. He was also a member of Prime Beef (Base Engineer Emergency Forces).
---
Ryan T. Kelley
Captain, U.S. Army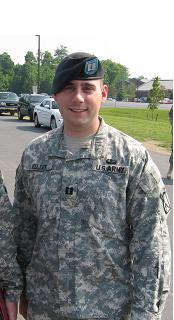 Captain Ryan T. Kelley was commissioned as a 2nd Lieutenant through the Reserve Officer Training Corps (ROTC) program at Youngstown State University in December 2007. Ryan served as a ROTC recruiter at Youngstown State University until April 2008 when he reported to the Basic Officer Leader Course II at Fort Benning, Georgia. While stationed there, he also completed Infantry Officer Basic Course and Airborne School.

Ryan was then assigned to be the Platoon Leader of 1st Platoon, Bravo Company, 1-87 Infantry Battalion, 1st Brigade Combat Team, 10th Mountain Division in Fort Drum, New York. It was during this time he was promoted to 1st Lieutenant. He arrived to the unit in November 2008, just after their return from a deployment. Ryan helped to reorganize and train his platoon for future deployments by coordinating and conducting multiple weapons ranges.

In July 2009, Ryan remained at Fort Drum and was assigned to be the Company Executive Officer (XO) of the Headquarters and Headquarters Company, 1st Brigade Combat Team, 10th Mountain Division. After successful completion of a training tour with his unit at the Joint Readiness Training Center (JRTC) in Fort Polk Louisiana, Ryan helped to deploy the unit to Afghanistan in March 2010.

While organizing trailers on a Forward Operating Base in Afghanistan, Ryan was injured and had to be medically evacuated back to Fort Drum. During and after his recovery he served as the 1st Brigade Combat Team Rear Detachment Executive Officer until the unit's return in March 2011.

After Promotion to Captain in April 2011, Ryan worked as the Brigade's Budget Officer until his honorable discharge in December 2011.

---
Ted S. Mathies
SP5, U.S. Army
3 Dec 1968 Invited, Drafted.
MOS 91B20 Medical Specialist.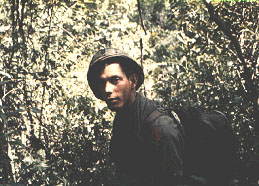 After 10 weeks of Medical training at Fort Sam Houston TX, sent to Vietnam in May of 1969.
May of 1969 Assigned to HHC 1/505 3rd Brigade 82nd Airborne.
Attached to Bravo Company 1/505 Infantry Company Senior Aid Man.
Nov of 1969 Reassigned to HHC 1st Infantry Division
Attached to Bravo Company 2/18 Infantry Company Senior Aid Man.
Jan of 1970 Reassigned to HHC 1st Infantry Division Battalion aid station Senior Aid Man.
During my tour in Vietnam I served with two Infantry companies in the field as their only medic, performing daily combat assaults by air and nightly patrols & ambushes. During my tour in the field I treated over 50 wounded from hostile action. Within that same time period I helped treat over 1500 villagers in Med-Cap operations in many villages. After being resigned to the Forward Aid Station I helped provide medical support to fire base operations and supporting medics in the field.

After returning from Vietnam I was assigned to the 547th Medical Clearing Company at Fort Stewart Ga. Our mission was medical support anywhere in world in 24 hours.

After my service I worked as facilities engineer and machine controls engineer for Mercury Real Estate, The Genie Company and Lexington Technologies.

---
Donley E. (Gene) Ott
Sergeant, U.S. Army
Gene Ott entered the Army on December 5, 1950 and was discharged on November 22, 1952. He served in Okinawa with K Company 3BN-29th Inf. and achieved the rank of Sergeant.
---
Donald Selby
U.S. Navy, U.S. Air Force
While a senior at the Lincoln High School in Canton OH Don enlisted in the U.S. Naval Reserve which was based in Canton. He did his boot camp at Great Lakes Naval Station in the summer of 1953. His enlistment ended 24 June 1956 when he was "discharged for the convenience of the government" to enlist in the U.S. Air Force.

His enlistment date was 25 June 1956. He spent two weeks in the Basic Training Sqdn and then was transferred to the Training Band Sqdn. Duty consisted of playing parade in the morning and then had light duty the rest of the day. Tech school was at Scott AFB in IL where he received his second stripe. He was shipped to RAF Sculthorpe, England which was a NATO airfield for medium range B-66 bombers with nuke capacity. Twenty four hours a day two planes, loaded with nuke devices, were ready to leave in one minute. He was assigned to the 420th Aerial Refueling Sqdn. which first flew KB29's then later KB50 aircraft. The squadron lost two KB 29's the week before he arrived losing 17 men and then they lost two KB50s over St. Lo, France the summer of 1958 with the loss of all crew members with a total loss of no less than 18 men. All four planes were on combat related missions during the Cold War. Don finished his tour of duty working in the 47th Bomb Wing Hdqtrs which was the base command unit. He returned to the U.S. 24 June 1959 and because he was under the eight year service program he received his final discharge 20 April 1960.

"May the men and boys from the 420th Squadron that gave their lives have clear skies and a smooth flight."
---
Donald F. Shaffer, Jr.
SP5, E5, U.S. Army
Don served from January 1966 to January 1969 spending time in Hanau, Germany. He later was in the OH National Guard from 1973 to 1975 as a SSG E6.
---
David C. Williams
E5, U.S. Navy
David was with the U.S. Navy Reserves from June, 1966 to June 1973. He was a Radioman 2nd Class, E-5 and served in Okinawa and LPD-1. He was on board the U.S.S. Raleigh
---
Duane Zorger
Aug. 22, 1945 - Nov. 9, 1946, U.S. Army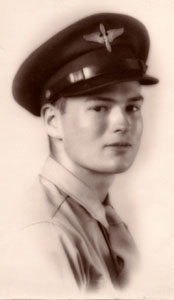 Around my birthday, April 26, 1945 I received a card to fill out and send back to Uncle Sam. Late July or early August I received my greetings. You have been selected by your President.

Stark County Selective Service #8 sent me a card to report to Hartville on August 22 to catch a bus and go to Cleveland Terminal Tower for a physical. After a delicious spaghetti dinner we caught a train to Camp Atterburg, Indiana for processing and get our clothes ration (plus a special haircut).

After two weeks of K.P. And processing we caught a train to Shepard Field, Wichita Falls, Texas for 6 weeks of Basic Training. We were quarantined to our area and not allowed to take any pictures. Big Silver planes were flying in and out. We were not told what was going on.

After our basics and shots we were shipped off to Geiger Field, Spokane, Washington, to be there on November 10th. After arriving we were placed in CCC barracks and processed. This is when I became a clerk-typist.

---
GOD BLESS THE USA!!!
If you would like to add service personnel to this area please Contact the Webmaster.